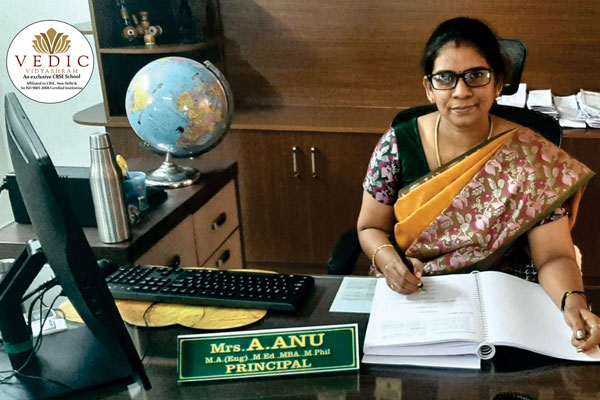 Our beloved Principal
Mrs. A. Sahaya Panimalar Anu, M. A., M. Ed, MBA, M. Phil
The face of Education has two eyes. Learning and implementing the acquired knowledge in every day's life. Education is a systematic provision of learning to the school going children. The purpose of Education is not only importing knowledge but also eradicate ignorance.

The purpose education has changed from producing literate society to learning society. We inculcate not only learning habits but also mould them to fit into the frame of society as a best citizen. Our school is an Institution designed in such a way that, we provide a learning spaces and learning environment for teaching all that are best for the future generation.

Our Name Vedic symbolizes the old method of education where discipline played a key role, here we initiate education through technologies and personality development through self realization and self respect. We develop the good judgment through practices. Daily tasks are focused on physical, mental and emotional development, built each and every students personalities in a multidimensional manner.
Education means, enlight through dedication, understand the environment and build character to achieve the goal by training with initiative methods to oculus to become noble.